History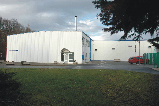 The production of self-adhesive labels was launched in Poděbrady in 1990. Our company became one of the leading manufacturers of self-adhesive labels within a relatively short time. The successful launch and further development of the company was based primarily on a personal approach to customers and building long-term business relationships by offering one of the widest ranges in the field of technology and last but not least, by investment in the stabilization of our work team from management to workers in production.
Present
Currently, PEMAX PRINT spol s.r.o. is a modern and dynamic company with a focus on advanced manufacturing. In 2007 the company left the narrow specialization of the production of self-adhesive labels and started to produce shrink sleeves and other flexible packaging. In addition to new machinery investments, we have invested into the expansion of production manufacturing and warehouse space, devised in accordance with the possibility of further growth.
Perspective
Self-adhesive labels have been and will continue to form the solid foundation of the company with a portfolio of long-term steady customers. It is our customers who prompted us to begin the production of SHRINK SLEEVES and the consequent production of plastic labels, where we see great opportunity for potential development. The company is able to produce high quality plastic labels in roll lengths of up to 75 cm.
We are doing everything in our power to offer the widest possible range of services in order to maintain our customers even when they decide to change or expand their packaging methods. The future of our company depends on the satisfaction of our customers, and we are prepared to do the maximum.