Progressive technology of shrink sleeves allows primarily for: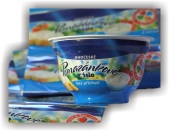 overall coverage and printing on complicated shapes of products or packaging – maximum utilization of space without compromising print quality
ensuring the security of contents with the so-called sealing effect, when the perforated label covers the closing cap for easy opening
protection of packaging as well as contents from outside influences (sunshine, mechanical damage, etc.)
high durability and shine of packaging thanks to printing on the inner side
It should be noted that, unlike self-adhesive labels, shrink sleeve production and application is much more demanding. It is therefore necessary for new customers to test the suitability of materials with regard to the application line and its direct setting at the customer's premises.

The Customer Service Department has recently opened and is ready to provide help and support in solving all possible problems and difficulties in the implementation of this packaging technology.
SHRINK SLEEVES are printed using UV FLEXO technology with the possibility of printing with up to 8 colours, or 7 colours + adhesive, they can further obtain a transverse or longitudinal perforation. With regard to the shape and method of sleeve application, we offer a wide variety of PVC, PET and HYBRID.